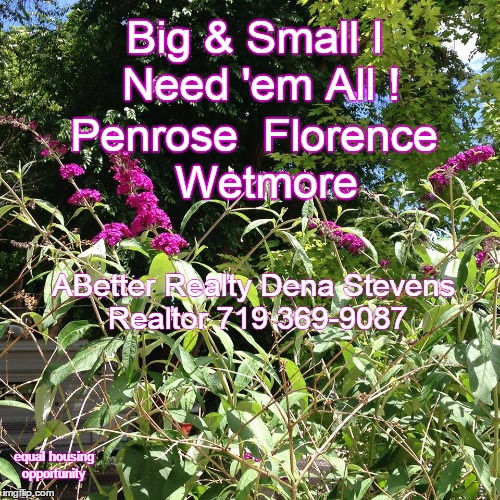 Big And Small I Need 'Em all  Buyers are looking for Penrose Properties NOW!
If you, your family or your friends are thinking about selling your Penrose property please contact Dena Stevens Realtor Rocky Mountain RealtyLLC 719 369-9087.  I have dozens of potential buyers looking to purchase Penrose property.
Buyers are looking for:
Vacant irrigated land over 10 acres with water shares (Penrose, Florence, Wetmore)
Residential property on 10 or more acres with water shares (Penrose)
Smaller houses that might be used as rentals (Penrose, Florence)
Distinctive houses with outbuildings including barns and arenas on 35+ acres (Penrose, Wetmore)
Vacant land with wells or paid water tap
Barns and / or arenas on vacant land with no residence (Penrose, Florence)
I'm happy to provide a no cost analysis of your property as well as a net sheet. The net sheet will tell you approx how much money you may make by selling your property. And if you have property outside of Penrose I'm happy to assist you!
Click here : http://www.realestatecoloradostyle.com/sell-my-property
Please forward this link or my name and contact information to friends and family. Thank you!
Dena Stevens
Rocky Mountain RealtyLLC
Realtor, Broker, SFR, CSP, Ecobroker
719 369-9087
If you are currently working with a real estate professional disregard this message..